SMMC is all about family, and it shows—from the moment you walk into the building that looks and feels like a home, NOT a "facility." The feeling of family radiates from all the caring staff. It is incredibly reassuring for all of us to know our loved one is being cared for "like family" and is safe in his new home.
To any families out there looking for a new, best home for their loved one(s), please contact SMMC. Reach out and take the tour. From a family who understands your hardship—Godspeed to you in your journey, trying to find the new, best home for your loved one(s).
Family Member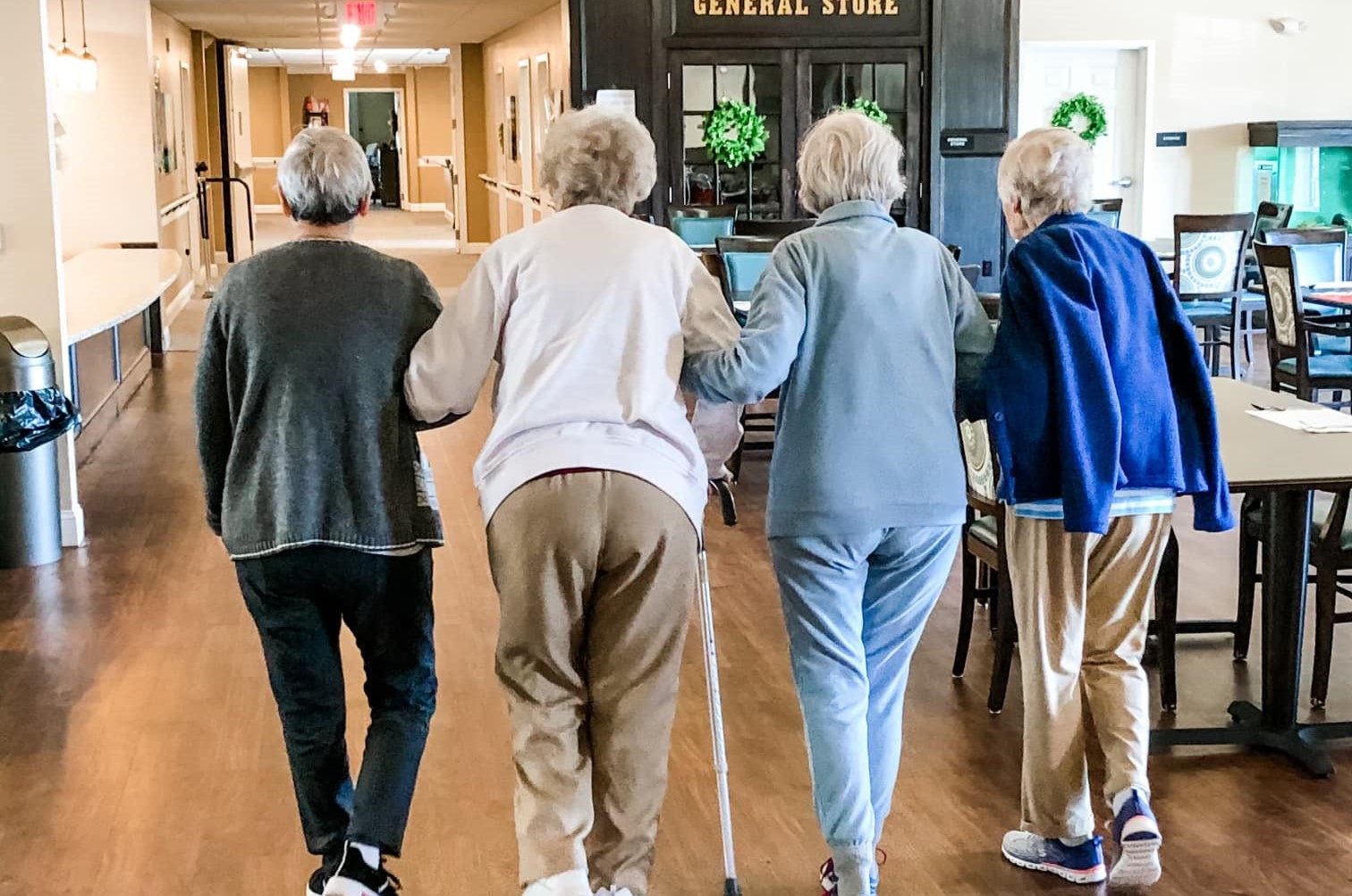 ---
Raymond Bushner, husband of Resident
I am so grateful that South Mountain Memory Care facility exists because I get to spend every day with my wife, who is a resident there. I live nearby and I am able to drive there. I usually have 2 meals each day with her. The food is great, and what we enjoy the most is sitting outside on the spacious front porch and holding hands.
---
Michelle Quier and Art Schmidt, Jr., family members
Moving Arthur in from another facility was probably the best move we ever made. I just wish it were sooner. From the minute he arrived at the facility, Joan the nurse sprang into action, making sure he had a "clean" wheelchair as he was sent with one that was totally disgusting. From there, he had lunch and immediately was given a shower and assessed. I witnessed firsthand the professionalism and care they have for every resident. I could tell he was not cared for to my standards at the other facility. Every staff member, from Karen who was a total doll handling everything from my tour to his move-in, to Joan making sure every medical need was met, and all the support staff were just amazing.
We have been doing window and porch visits due to COVID and they didn't care how long we sat at that window on the cell phone with him. The happiness of the resident is top priority.
On Saturday, Hospice told us Dad was at end of his life. We were able to stay as long as we wanted. They supplied a hospitality cart with snacks, drinks, etc., and checked on us constantly. Sunday, Dad left us to be with God. Joan came in on her day off and prayed over him and kissed him goodbye. When I said to her today is your day off, her reply was "Arthur was my patient, I needed to be here even though my staff is more than competent."
I was surprised to see Karen at his funeral service yesterday. They just get it. It isn't just another resident but they treat them like their own family.
I would highly recommend South Mountain Memory Care to any family looking to place their loved one in a Memory Care facility. You won't be sorry.
Thank you all from the bottom of our hearts.
---
Patty Klein, wife of Resident
When I first saw the South Mountain facility, I thought a miracle happened in Emmaus. My husband moved here 4½ weeks ago. I thought he'd be in our home forever with home care until I found this place. Upon visiting, it was irresistible. He was here within 2 weeks of finding SMMC. No extra thought, our decision was made, this was the perfect place. Nine minutes from our home, this has been so special for our family. Expectations have been exceeded—the staff, facility, the FOOD! A dream come true.
---
Juanita Wall, daughter of Resident
I am so pleased to have our mother back in her old neighborhood. South Mountain Memory Care is a beautiful facility with caring, dedicated staff and just the right number of residents so that they can be well taken care of.
---
Gary Cserpnyak, Professional Maintenance
I have worked in many personal care facilities and dementia units, and I think that South Mountain Memory Care is not only a beautiful-looking facility but just the right size to be functional.
---
Nancy Fanning, daughter of Resident
I am so pleased with the care that my mother is receiving at South Mountain Memory Care. She was at another local facility and she did not leave her room; at South Mountain, she is social, she participates in activities, and even went on a trip to Cracker Barrel with other residents.
---
Jen Trainor, daughter of Resident
SMMC was an answer to prayer for our family. We were in an impossible position, having to make a hasty/pressured decision about placing our loved one into a secured personal care facility. Throughout this very emotional, trying, complex process, the staff at SMMC could not have been more supportive, professional, informative, efficient, available, accommodating, patient, and caring. They continue to be all of those things to us and more importantly, to our loved one, who has been residing and thriving there since February 2018.
---
Richard Sippel
My wife is a resident at South Mountain Memory Care facility, which is located in our hometown. I feel so confident that she is being looked after properly and is safe and secure. She has dementia and would wander out of our home.
---
Pat Rock, daughter of Resident and medical professional
During my thirty-year career in the healthcare industry, I have had the privilege of providing care and education in a variety of settings for countless patients of all ages. In my experience, I have concluded that the most difficult aspect of caregiving is assisting families with making difficult decisions for their loved ones. Under the best of circumstances, life changes for individuals can be challenging, and being a professional caregiver does not provide immunity to the emotional upheaval one may experience when having to move their parent to a memory care center. However, I feel blessed and am very grateful to the entire staff at South Mountain Memory Care for their exceptional response to my family's immediate needs. Angels really do exist!
---
Dave Kleppinger, son of Resident
We are so glad to have found this wonderful, caring place for our loved one. The facility is beautiful and includes many touches that create a home-like feeling. The rooms are spacious and lovely. The staff is exceedingly gracious and helpful. Their friendliness and attentiveness helped our mom feel right at home. Mom has enjoyed the tasty meals and appreciates the loving personal care. We highly recommend South Mountain Memory Care to anyone who needs personalized memory care for their loved one. Our personal thanks to the staff who make this such a wonderful place for those needing special care.
---
Pat Stuart, wife of Resident
I am so pleased with the care that my husband receives as a resident of South Mountain Memory Care. The building is just the right size, with that "homey" feel, not institutionalized, like many places.
---
Lou Peragallo, son of Resident
It was nice visiting. I am very impressed with the work you and the staff provide for Mom. She is very happy and has made unbelievable progress. She hasn't been this active in years. Please pass on along my appreciation to everyone at the facility.
---
Diane, daughter of Resident
My mom looked SO happy tonight. This is really a different demeanor than we've seen in her home. Even my son said, "She a different Mamaw!" (in a good way!) My heart felt so much better after seeing her today. Thank you all so much!
---
Bill, Lisa, and John Grumbine, family members
We would like to thank all of you for the excellent care you gave Mom during her brief stay with you. We are grateful, not only for your professional manner, but also for your genuine concern and enthusiasm. Service may be bought, but compassion and love come from the heart. We are also grateful for your care of the rest of the family, especially as Mom went through her last days in hospice.
---
Kim Steltz, daughter of Resident
I wanted to drop you a line that each time I see Mom she looks so happy and well cared for. Please pass along my thanks to all the people doing such hard work there! It makes this journey a bit easier! She chatted all about friends, activities coming up, and about her routine. Thank you so much!!
---
Jim Rotherham, son of Resident
My mother is a resident at South Mountain Memory Care. We moved her to SMMC following a stay at a larger local memory care facility. The smaller size facility allows the staff to give her much more attention and get to know her. She is treated kindly and is encouraged to participate in the daily activities. The favorite activity seems to be batting a balloon around the activities circle. At the larger facility, it was easier just to let her sit in her room. The health care team at SMMC does a great job noticing small issues and recommending care when needed.
---
Jen Trainor, daughter, and family
I wanted to reach out to THANK the entire SMMC Team for making this first, in-person/field trip w/Dad (since COVID-19) a huge success (at least from the family perspective). From the behind-the-scenes planning in advance with you, providing continuity of communication between management & direct care staff (on your day off!), to when I called in and spoke w/Jen the morning of the visit, who helped me decide how to handle things—at the last minute—when Dad "didn't look like he was having a good start to his day." Jen's guidance that morning was essential, specific, on-target, and SO supportive. She was (IS ALWAYS) amazing. AND the "AMAZING" continued throughout the entire day; Brenda getting Dad 100% ready to go—she actually prepared a personal "care-package" of his modified cup w/straw & water bottles to hydrate, extra Depends & pads & sanitary wipes. She was SO reassuring to me bc I was anxious. She said, "Jen, I am sure this is stressful for you all of you, I understand—but know you can call us (SMMC) for anything while you have Monty. It is going to be ok." I think I started crying at that point, but didn't want to stress Brenda out. She DID and SAID all of the right things and tears of joy just happen this way. Staff offered to assist w/transfer on both the departure & return. When we did pull up to say our goodbyes to Dad, staff had already come out to assist w/transfer from vehicle. We didn't ask bc we knew it was change of shift. We knew everyone was busy inside, but they came out to assist anyway and were again, AMAZING. When Pat & I did wheel Dad back to his room, the room & bathroom were clean and the bed was made. We put him down for a nap (he was WIPED). I mention this bc cleaning staff also deserve a "shout-out" & our gratitude. I simply CANNOT say enough to thank ALL OF YOU, each and every one of you involved in making Dad's day, this past Saturday—something which we believe gave him joy.
Please share our sincere gratitude with everyone. As his family, we fully understand we won't have many more opportunities like this. To know that SMMC also understands this—the gravity of each moment between resident and family—to see all of you go above and beyond the way you all do—to make these opportunities/moments a success when they happen—is how I can sleep at night. We are eternally grateful.
---
Daughter of Resident
I am writing to express my deepest gratitude for the extraordinary care that you have been providing to my mother since she became a resident at South Mountain Memory Care.
I had the pleasure of speaking with my mom over the weekend, and I wanted to share the positive impact your dedicated efforts have had on her. During our conversation, I noticed a remarkable change in her demeanor. She seemed more at ease and content, as if she has finally found a place where she truly belongs. The warmth and compassion shown by the staff at South Mountain Memoyr Care have not gone unnoticed. My mother expressed her happiness and gratitude for the care she has been receiving, repeatedly mentioning hos safe she feels in her new environment. This reassurance has brought immense comfort not only to her but also to me, particularly considering the distance that separates us.
I understand that transitioning a new resident into a care facility can be a challenging process, both for the staff and the resident's family. However, your team has truly excelled in creating an environment that promotes comfort, security, and genuine care. Your attention to detail, patience, and kindness have made all the difference in my mother's experience. Please extend my heartfelt thanks to each and every staff member involved in my mother's care. Your dedication and professionalism shine through in the exceptional service you provide. It is heartening to know that my mom is in such capable hands, and it brings me great peace of mind. Once again, thank you for making a positive impact on my mother's life. Your unwavering commitment to her well-being has not gone unnoticed or unappreciated. I am truly grateful for the outstanding care and support you continue to provide.