Faith Community Nurses consider community cultural practices an essential component in understanding how to effectively support an individual's mental health during important life transitions. Additionally, Faith Community Nurses seek to understand how religious beliefs and life transitions, such as marriage, divorce, birth, death, and illness, impact spiritual and mental health care. The emotional toll of family separations due to wars, unexpected life events, or planned transitions can be a reason for Faith Community Nursing interventions to support mental health. As we witness a worldwide declining economy, nationally high unemployment rates, a decline in healthcare resources, and reduced access to treatment, medication, and nutritious foods, Faith Community Nursing care is a valuable asset for various religious communities. We will briefly examine the historical and cultural uses of Faith Community Nurses, as well as the concept of transitions to better understand how Faith Community Nurses can be helpers to support mental health for diverse faith communities during key life events.
The word "nurse" is derived from the Latin word nutricius, meaning "nourishing." Ancient Egyptian physicians and nurses assembled volumes with more than 700 remedies for numerous health problems. During this period in history, the political and military climate led to extreme poverty, women being widowed, and children being orphaned. Society had no means to care for the dependents of soldiers or the mentally ill. Children were abandoned and infanticide was practiced regularly as a desperate means to reduce starvation. Convents became havens to practice Christian beliefs where deaconesses, widows, and virgins ministered to the ill within the safety of the convent. Nursing gained status associated with religious faith from parishioners and the faith-based community members they served. The altruistic ideal of providing care as a service performed out of humility and love became the foundation for Faith Community Nursing.
Faith communities are groups of people who maintain routine fellowship to share their common history, values, and beliefs around their relationships with a higher power. Depending upon the specific faith, communities of shared religious faith congregate regularly in churches, synagogues, temples, mosques, kingdom halls, and cathedrals. It is in this regular fellowship that Faith Community Nurses develop caring and trusting relationships with their congregation members.
The faith community is an ideal place to study the relationship between religion and health as it focuses on their symbiotic relationship. Health or healing is included within the majority of faith-based community mission statements. Community-based nursing is generally practiced throughout the wider community, whereas faith-based nursing is practiced within the faith community; however, community-based nursing can be performed in faith-based settings. Faith Community Nursing incorporates spirituality and religion as basic contexts of nursing practice. Both forms of nursing focus on health screening, health promotion, and disease prevention. Faith Community Nursing can have a positive impact on supporting mental health and wellness during life transitions with the provision of social support, spiritual care, health education, and the use of health and human service referrals.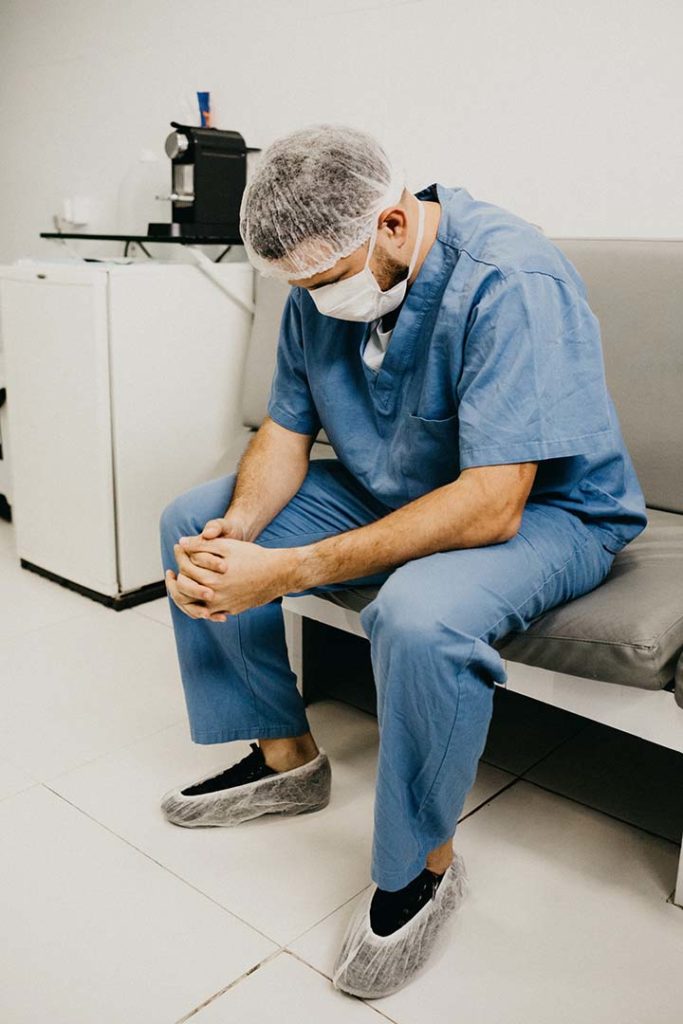 EXAMINING THE CONCEPT OF TRANSITIONS
"Transition" is a passage from one state, stage, subject, or place to another. It is a concept that has been central to nursing and has been of keen interest to nurse researchers, clinicians, and theorists. Transitions can include near-death experiences, homelessness, widowhood, entry of an elderly family member into residential care, self-identity, discharge from a hospital after an acute illness experience, and suffering and exiting an abusive relationship. Transitions are universal and are classified as changes that occur in behaviors, abilities, identities, roles, patterns, and relationships. Factors that commonly mediate the transition process are a personal interpretation of an experience, personal expectations, level of knowledge or skill, environment, level of planning, and emotional and physical well-being.
An inability to cope, adapt, or problem-solve during challenging transitions (loss of a loved one, receiving an illness diagnosis) or even positive transitions (entrance into college, marriage, birth of a child) may result in unhealthy and ineffective mental health outcomes, including depression, anxiety, posttraumatic stress disorder, and substance use or dependency. Faith Community Nurses can aid in preventing poor mental health outcomes for faith community members by recognizing the spiritual needs and cultural realities of these groups while using information garnered during private sessions with clients to aid individuals in the management of spiritual, situational, and psychological changes. Faith Community Nurses provide support to individuals experiencing transitions and play an important role in helping clients anticipate and complete acts of transition.
SUPPORTING MENTAL HEALTH DURING LIFE TRANSITIONS
Faith Community Nurses support an individual's psychological well-being during life changes by providing social support or links to social support networks, facilitating health education, engaging in spiritual counseling, and providing referrals. Faith Community Nurses support the unique physical, social, and spiritual needs of a faith community as needs arise during key life transitions.
For example, a woman recently diagnosed with cancer may find comfort and express feelings of enhanced mental wellness because she is able to talk about her diagnosis with her Faith Community Nurse. Additionally, the Faith Community Nurse may refer her to a cancer support group to assist her in coping with her current illness.
Faith community nursing also provides avenues for supporting an individual's spiritual health. Praying, listening, and being present are part of the care provided to members of their faith communities. In addition, on a community level, they may offer programs on healing and wholeness, healing services, newsletter articles on the relationship between health/wholeness and spirituality, etc. Engaging in prayer and the use of spiritual coping strategies have been linked with overall wellness and a positive effect on healing.
Faith Community Nurses can aid in supporting an individual's mental well-being by maintaining a consistent relationship with local community agencies to ensure that they remain current on the educational programs and resources offered in the community. By having a nurse within a faith community, individual members of the faith community may feel more comfortable asking about the nature and availability of mental health services.
SUMMARY
The Faith Community Nurse can be an important assistant in supporting the mental health of individuals during important life transitions by providing social support, spiritual care, referral services, and health education. Nurses who provide care in these settings will likely have unique and frequent opportunities to provide mental health services and referrals to individuals experiencing transitions related to crisis, hospitalization, death, and other important life changes. Faith Community Nurses are at the frontline, aiding faith communities in supporting holistic health of the mind, body, and spirit.
Faith Community Nurses International: fcninternational.org
Source: ncbi.nlm.nih.gov/pmc/articles/PMC3710745
South Mountain Memory Care focuses on high-quality, personalized care, and the safest possible environment for your loved one. South Mountain Memory Care is proud to offer our residents a wide range of resident-focused daily activity programming. Each neighborhood offers activity space for group and one-on-one activities.
The brand-new building is a stand-alone memory care community, meaning that the entire building, staff, and programs, are designed to serve residents with cognitive issues. To ensure person-centered care and attention, we have accommodations for up to 28 residents. The building is divided into two neighborhoods (wings), each offering 10 private suites and 2 semi-private suites. South Mountain Memory Care is located in the Allentown suburb of Emmaus, Pennsylvania, and is easily accessible from the Lehigh Valley, New Jersey, and Philadelphia. For more information, go to southmountainmemorycare.com.